About Us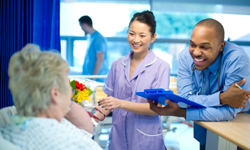 The Manitoba Locum Tenens Program (MLTP) is part of the Manitoba Healthcare Providers Network.
The program is mandated to provide Locums to rural, urban and remote medical practices in Manitoba.
The program is designed to provide locum coverage to rural and northern (outside of Winnipeg & Brandon) physicians in practices of four physicians or less, as well as urban (within Winnipeg & Brandon) physicians in practices of ten physicians or less. These physicians experience difficulty in scheduling Continuing Medical Education and vacation time as locums are frequently in short supply. Locums in the rural & northern program are ordinarily allocated between 5 and 28 days. Locums in the urban program can be allocated from 5 days to 17 weeks.
Much of the success of the program will depend on making a good match between site and Locum Tenens. MB Healthcare Providers Network shall widely advertise and conduct related publicity, recruitment and information-sharing activities in support of the Program. The program will maintain a web presence that will offer online locum searches, program documentation and contact information. Recruiters will be able to use the online system to submit availability and monitor, past, present and future commitments.
Program Administration
Program Administrator: Wayne Heide
Program Assistant: Ashley Shaw
Program Medical Advisor: Dr. Jason Scott, CCFP